Project_909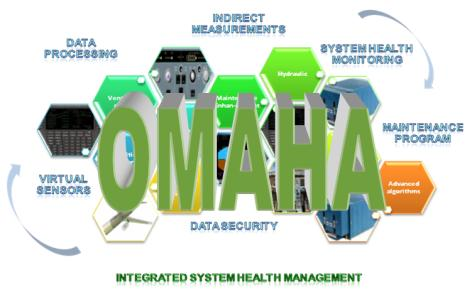 OMAHA - Overall Management Architecture for Health Analysis
The high-level goal of the OMAHA project is to develop an overall management architecture for health analysis of civilian aircraft. The project covers several topics like diagnosis and prognosis of flight control systems, innovative maintenance concepts and effective methods of data processing and transmission. A special challenge of the OMAHA project is to outreach the aircraft (fleet) and its subsystems and integrating systems and processes in the ground segment like manufacturers, maintenance facilities, and service partners.
DFKI – and its partners Airbus and Lufthansa Systems – are aiming at improving the diagnosis of fault cases in an aircraft. While currently rule-based and model-based diagnostic methods are applied in aviation, DFKI and its partners are analyzing how to supplement these methods using case-based reasoning (CBR) for improving decision support for diagnosis and maintenance. Processing error messages, operating data, and log book entries, together with available case-specific knowledge, enables a cross-system diagnosis in the sense of Integrated Systems Health Management (ISHM). Because of the variety of airplanes to be considered, the huge number of related processes for operation and maintenance of the respective carriers as well as a lot of further complex constraints being related to issues of safety, environment protection, and cost effectiveness, the final system will be a multi-agent system consisting of several case-based agents.
The OMAHA project is supported by the Federal Ministry of Economy and Energy in the context of the fifth civilian aeronautics research program based on a decision of the German Bundestag.
Im Rahmen des Verbundprojektes OMAHA wird ein ganzheitlicher Ansatz in Bezug auf das Thema Systemzustandsüberwachung und -kontrolle und deren Einbindung in eine integrierte Flugzeuggesamtarchitektur verfolgt. Diese integrierte Flugzeuggesamtarchitektur umfasst sowohl das Flugzeug als auch die Prozessumgebung, in welcher das Flugzeug insgesamt als Teil einer Flugzeugflotte betrieben wird.
Das DFKI hat, gemeinsam mit den Partnern Airbus und Lufthansa Systems, das Ziel, die Diagnose für Fehlerfälle im Flugzeug zu verbessern. Derzeit werden in der Luftfahrt die Methoden der regelbasierten und der modellbasierten Diagnose eingesetzt. Das DFKI untersucht zusammen mit Airbus und Lufthansa Systems ergänzend zu diesen bestehenden Diagnoseverfahren die fallbasierte Diagnose, d.h. die Anwendung von fallbasiertem Schließen (engl. Case-Based Reasoning (CBR)) auf die Diagnoseproblematik. Durch die Verarbeitung von Probleminformationen in Form von Fehlermeldungen, Betriebsdaten, Bordbucheinträgen sowie durch Nutzung verfügbaren fallspezifischen Wissens wird dabei eine systemübergreifende Diagnose im Sinne des Integrated Systems Health Management (ISHM) ermöglicht. Das Entscheidungsunterstützungssystem für Diagnose und Wartung wird aufgrund der Verschiedenartigkeit der jeweiligen Flugzeuge, der Vielzahl an zugehörigen Prozessen für Betrieb und Wartung der jeweiligen Betreiber sowie vieler weiterer komplexer Randbedingungen aus den Themenbereichen Sicherheit, Umweltschutz und Wirtschaftlichkeit als Multi-Agenten-System realisiert, das verschiedene CBR-Systeme beinhaltet.
OMAHA wird gefördert durch das Bundesministerium für Wirtschaft und Energie aufgrund eines Beschlusses des Deutschen Bundestages.